Strengthening our Human Services Ecosystem by Rochester Nonprofit Consortium
When
Feb 10, 2020
from

08:00 AM

to

03:00 PM

Where

Assisi Heights 1001 14th Street Northwest Rochester, MN 55901

Add event to calendar

Outlook/Android




Apple iPhone/iPad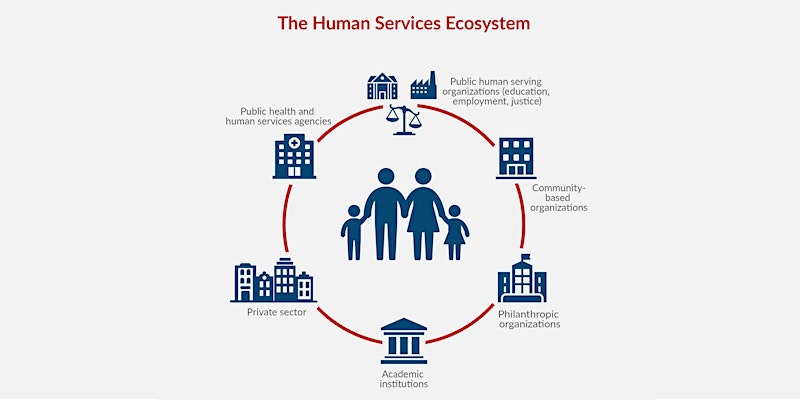 Bring together diverse partners for learning and discussion around creating a more cohesive, connected human services ecosystem in Rochester
About this Event
On behalf of our planning committee, we are pleased to invite you to the Strengthening our Human Services Ecosystem Summit. At the Summit, leaders from the nonprofit, government/education, and philanthropic sectors in the Rochester area will work collectively to determine how best to increase our impact.
Our featured guest speakers include:
Tracy Wareing Evans, President/CEO of the American Public Human Services Association (APHSA), and
Susan Dreyfus, President/CEO of the Alliance for Strong Families and Communities
The Summit will also highlight a panel of local community leaders from each sector.
The Summit is based on learnings from the report titled National Imperative: Joining Forces to Strengthen Human Services. This report provides important insights into how the broader human services ecosystem—including the public sector, policymakers, private funders, and others—can help clear roadblocks and design new pathways that will help the nonprofit sector build on its many strengths. These cross-sector partnerships are key to assuring nonprofits' financial sustainability and lasting impact in our communities.
To ensure a successful event that produces concrete results, we encourage you to participate in the Summit in its entirety. PLEASE NOTE: this event is invitation only. Registration is required to attend, and includes lunch and refreshments.
A special thank you to our planning committee and supporters:

SPEAKER BIOS:
Tracy Wareing Evans is the President and CEO of APHSA, a bi-partisan, non-profit, membership organization representing state and local human service agencies through their top-level leadership. In coordination with its governing board of directors, Wareing Evans sets the strategic direction for the Association and spearheads delivery on its mission "to advance the well-being of all people by influencing modern approaches to sound policy, building the capacity of public agencies to enable healthy families and communities, and connecting leaders to accelerate learning and generate practical solutions together." In support of APHSA's bold strategic plan released in 2018, Wareing Evans is mobilizing strategic partnerships with connected sectors integral to thriving communities, including education, justice, housing and health as well as community-based organizations.
Wareing Evans has a long history in high-level policy development and public administration. She served as a senior advisor to U.S. Department of Homeland Security Secretary Janet Napolitano and, before moving to Washington D.C. in 2009, as the Director of the Arizona Department of Economic Security, an integrated human service agency. She has also served as policy adviser for human services under then Arizona Gov. Napolitano and as director of the state's child welfare division. Wareing Evans began her career as a litigator. Wareing Evans has served on more than 20 boards and advisory committees over the course of her career, including several national appointments. In 2019, she was selected as a fellow to the National Academy of Public Administration.
Susan N. Dreyfus is president and CEO of the Alliance for Strong Families and Communities. She is dedicated to advancing equity through access and opportunity, and believes in the power of the social sector to be influencers of larger systemic change.
Susan rejoined the Alliance in 2012. Prior to that, she was Secretary of the Washington State Department of Social and Health Services (2009-2012) and served as the first Administrator of the Division of Children and Family Services for Wisconsin (1996 through 2001).
She was appointed by the Gov. Tommy G. Thompson Administration in Wisconsin as the first administrator of the Division of Children and Family Services (1996). Responsibilities included child welfare, child care quality and licensing, and youth development.
She is chair of Leadership 18; serves on the governing board of the American Public Human Services Association; is on several social sector national advisory committees; and was appointed through the Speaker's office in the U.S. House of Representatives to serve on the National Commission to Eliminate Child Abuse and Neglect Fatalities from 2013-2015.
In 2019, Dreyfus was named to 'The NonProfit Times' Power and Influence Top 50 list of nonprofit leaders who have "distinguished themselves as initiators of concepts that will have legs and are already having impact." She was also included in the Top 50 list in 2018, 2017, and 2015.